RECORDINGS OF SONGS: In the above menu, see "Song For Desert Rats", "Honky Tonk Songs", and "Songs For Love". Each contains a link to a booklet of lyrics.
FIND CW: Saturday noon at A TO ZEN in Carson City—1803 N. Carson St.,—Tuesdays noon at Comma Coffee—across from the Legislature on Carson St. —summertime sometimes at the Carson City Farmer's Market, the Ponderosa Saloon in Virginia City, the Genoa Cowboy Festival, the Sutter Creek Jug Band Festival and the Carson City Jazz Festival. See Calendar below.
CW's SONG REVIVAL: CW performs original old-school songs. 
Bring CW to your joint. A unique performer and composer of roots music, CW writes songs based on the "standards" of a by-gone era. He performs using  guitar, blues harmonica, a small drum and, when needed, an amp–at low volume. Very danceable. The sound can suit a small venue or a large one—can be serious honky-tonk or, lighter, family oriented fun music for the farmers market. Hear these and other fabulous swing and bluesy songs, lunchtime Tuesdays at Comma Coffee in Carson City. And, Saturdays noon at A TO ZEN. 
SEEING THE ELEPHANT: CW's gold rush song presentation. 11 songs with 11 stories. Based on extensive research, this musical exploration traces the origins and fate of the 49er phrase,  "seeing the elephant". Download "The Gold Rush Song Primer" for an abbreviated overview of the topic–the free book that goes with CW's CD: A Gold Rush Song Sampler. This history is entertaining and it is fundamental to understanding the culture of the West.
THE STRYCHNINE BANJO: CW's historical talk and slide show based on his book of this title. The 45 minute to one hour program uses slides as CW outlines the story of banjoists Charley Rhoades and Jake Wallace as well as their song, the most important song to emerge from the gold rush: "The Days of '49". This is a revealing look at show business in the far West as it actually occurred.
THE MAJOR AND THE GAMBLER: CW's one man play outlining the creation of Nevada Territory. First Lucky Bill gives his version of the story. Then Major Ormsby gives his version. This is the fundamental story of Nevada's founding. Vigilantes. Intrique. Massacre. Gambling. Politics. Not to be missed!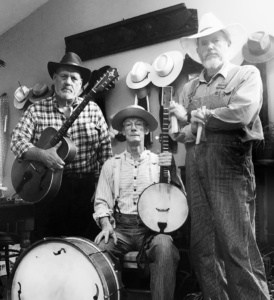 THE HOBOES: B
roadcast old time music with live video on Facebook from the A TO ZEN Facebook page Mondays noon. See the latest video there. Brother Dave on Octaplex, CW on old time banjo, The Doctor on bones. Stop by to be part of the live video cast, 1803 N. Carson St. Here's the latest episode!
The Hoboes at A TO ZEN, live. 1803 N Carson St.

Posted by A To Zen on Monday, February 19, 2018
Books & CDs:

The Nevada Collection. THREE GREAT HISTORY BOOKS at one reduced price–saving you money. See descriptions of these books below. DREAMING UP NEVADA TERRITORY, RHYMES FROM THE SILVER STATE & THE STRYCHNINE BANJO. To purchase The Nevada Collection, go to the MERCANTILE LINK

The Founding! "DREAMING UP NEVADA TERRITORY—the story of William Ormsby." The founding story of Nevada Territory and of Carson City, its capital. The fundamental cultural and political history of

 

early settlement

 

efforts–full of drama, violence, intrigue and free-booting. Important to the early politics of the far West and the central overland road prior to the Civil War, Nevada and western history. About 39 pages. For copies, go to the MERCANTILE LINK 

. This book may be ordered for

Kindle by clicking here

.  

(Note: This is a summary of the other book, PROFIT, PLOTS & LYNCHING–a more detailed and documented study of this history.)

Great Story! "THE STRYCHNINE BANJO-Jake Wallace, Charley Rhoades and 'The Days of '49′".The story of the early far West's most important banjoists and the song they created and popularized–the far West's most significant 19th century mining song. This story is important to the history and culture of the far West! Amazing period quotes about music in gold rush California and Nevada. About 148 pages. For copies, go to the MERCANTILE LINK. This book may be ordered for Kindle by clicking here.

Lyrics! "RHYMES FROM THE SILVER STATE–historical lyrics." The fundamental collection of Nevada lyrics–songs and poems–reflecting both the mining era, c.1854 to c.1905, and the sagebrush and pine era, 1905 to c.1932. Nothing defines the historical culture of the silver state better than these pieces. About 87 pages. Click on the MERCANTILE LINK and buy a copy.

Trucks! "TRUCK TRAIN THROUGH THE SAND–the story of the 1919 Transcontinental Motor Convoy on the road through Carson City." The events, romance, steel and politics of the Lincoln Highway around the 1919 motor convoy as it encountered its most difficult stretch. Lots of great photos. About 47 pages. For copies, go to the MERCANTILE LINK. The book may be ordered for Kindle by clicking here.

Historical Music! THE GOLD RUSH SONG SAMPLER CD. Click here to download "THE GOLD RUSH SONG PRIMER"–a companion to CW's CD: "A GOLD RUSH SONG SAMPLER". That CD is available at the MERCANTILE LINK. The CD and PRIMER illustrate the progression of gold rush song from 1849 to 1868. Both contain offensive historical lyrics. CW is available to speak and present on this subject.

Old Timey Western Ditties! "SAGEBRUSH SONGS" CD.  For copies, go to the MERCANTILE LINK. Listen below: a few of CW's old timey western songs from his "Sagebrush Songs" CD:
PASSIN THRU ©2016 CW BAYER
GIVE ME STARS IN THE DESERT SKY ©2016 CW BAYER
LOUIE THE HORSE ©2016 CW BAYER
TWILIGHT ON THE SAGEBRUSH ©2016 CW BAYER
CW & Dr. Spitmore:
Honky tonk guitar and jug. Swingy, western, twangy, fun. The guitar–a tin can 1930 National, the best. The big jug–thrift store special. CW is so old school he's almost fashionable. Perfect for bankruptcies, wakes and foreclosures! See calendar below. Look for them in all the best saloons, honky-tonks and outdoor markets. Email: nevadamusic.com@me.com
---
Performance Calendar: