CW AND DR. SPITMORE would make a great addition to your BBQ. Also popular at foreclosures, wakes and bankruptcies. Email for info.: nevadamusic.com@me.com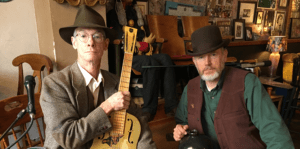 See the CDs listed at right.
Click here to download "THE GOLD RUSH SONG PRIMER"–a companion to CW's CD: "A GOLD RUSH SONG SAMPLER". That CD is available at the MERCANTILE LINK. The CD and PRIMER illustrate the progression of gold rush song from 1849 to 1868. Both contain offensive historical lyrics. CW is available to speak and present on this subject.
For a more detailed history of gold rush music including the sources as well as fascinating history of the banjo and the far West's most significant 19th century mining song, click on the MERCANTILE LINK and buy a copy of "THE STRYCHNINE BANJO-Jake Wallace, Charley Rhoades and "The Days of '49".
Click here to read DREAMING UP NEVADA TERRITORY–the story of William Ormsby, the founding story of Nevada and of Carson City, its capital. This is the fundamental cultural and political history of the state.
Click here to read RHYMES FROM THE SILVER STATE–a seminal collection of historical mining verses from Nevada. This book defines the culture of the 49ers, prospectors and desert rats that persisted until about 1919.
Click here to read TRUCK TRAIN THROUGH THE SAND–the story of the 1919 Transcontinental Motor Convoy on the road through Carson City. It looks at the romance and politics of the central overland route through Carson City as well as at the shift in western culture that occurred around 1919.
Email: nevadamusic.com@me.com
A few of CW's old timey western songs, from his cd, SAGEBRUSH SONGS:
PASSIN" THRU ©2016 CW BAYER
GIVE ME STARS IN THE DESERT SKY ©2016 CW BAYER
LOUIE THE HORSE ©2016 CW BAYER
TWILIGHT ON THE SAGEBRUSH ©2016 CW BAYER
CW & DR. SPITMORE, honky tonk guitar and jug. Swingy, western, twangy, fun. The guitar– tin can National. The big jug–thrift store special. CW is so old school he's almost fashionable. Learning guitar during the folk scare of the mid-60s, he has traipsed the by-ways of the silver state writing songs about dust devils and wild women. DR. SPITMORE brings an impeccable attention to detail and tone borne of his many years as a performer of Baroque music. His favorite jug is the one that works. Regulars at the Genoa Cowboy Festival, the Ponderosa Saloon in Virginia City, Bodie Days, Comma Coffee, The Third St. Farmer's Market…perfect for bankruptcies, wakes and foreclosures! Look for them in all the best saloons, honky-tonks and outdoor markets. See the boys at:
Visit the links. All about CW's presentations, books. etc. Lots of songs by CW.
Visit the Mercantile: buy books and CDs!