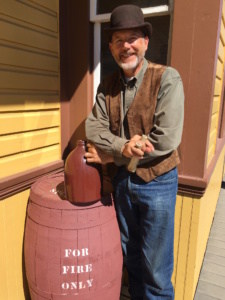 Science tells us that, during ancient time, primitive man blew into sea shells—without much effect. Some say the same about jug playing, but not Dr. Spitmore.
Dr. Spitmore began his career as a Baroque recorder enthusiast in a Renaissance band. He stumbled across Ragtime music in a dark and dingy honky tonk late one night when he tripped while crossing the mosh pit and fell onto the stage and promptly fell asleep. Others say he passed out, but he vehemently refutes their story as malicious slander. He tried to get his fellow Renaissance band members to fuse Ragtime with their repertoire, but they refused. Undaunted, he surprised the other performers, and the audience, shortly thereafter by dancing swing steps and shouting WAH WAH! during his customary solos. He was replaced by another fine alto recorder player the next night.
Never one to let adversity cheer him up, Dr. Spitmore headed for his favorite therapist, a bartender not far from his motel with monthly rates. He mistakenly entered Joe's Thrift Store on the same block, found an antique sofa, and fell asleep again.
The store clerk was new to the job and assumed that Dr. Spitmore was just one of the manikins left on the sofa by the owner who was rearranging merchandise. When Dr. Spitmore awoke, it was past midnight, and the clerk had locked him into the store. To pass the time until the store was reopened, Dr. Spitmore began looking for musical instruments to play. He found no recorders, guitars, fiddles, flutes, or trumpets. However, he did find some old jugs, and for the fun of it, he began to blow into them. The jugs contained the dried remnants of diesel fuel, pesticides, strychnine, and other liquids found on ranches. That's how he lost his hair but gained a new calling.
Soon, Dr. Spitmore was wandering alone in desert. He came on CW whose old Willys had broken down. They played for tips at the Cowboy Cafe all summer and finally were able to replace the missing tail light. He poses here with bones that he personally carved. One thing lead to another. Now, everywhere they go, people ask, "where do you find all that HOT air?"
TIPS BY DR. SPITFIRE!
"My favorite jug is a big jug," Dr. Spitmore states. "I have small jugs and medium jugs. But the big jug is my recommendation."
On jug pitfalls: 
"You have to watch out for fuzzy lip syndrome. Remember, it isn't how loud you blow, it's how well."
On beginning the jug:
If you are just starting out, I encourage you to play a lot. The best way to get better is to play your jug.
On advance, professional jug techniques:
Just relax. Pretend you are getting paid and think about dinner.